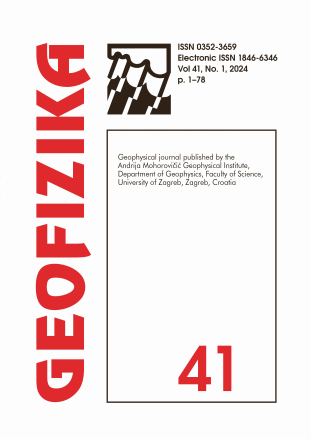 Open access and licenses statement
Online library (open access) NEW
Author index NEW
e-mail: geofizika-journal@gfz.hr

This work is licensed under a Creative Commons Attribution-NonCommercial 4.0 International License.

General information


Type of Publication: Journal
Language: English
Publisher: Andrija Mohorovičić Geophysical Institute, Department of Geophysics, Faculty of Science, University of Zagreb
ISSN (print): 0352-3659
ISSN (electronic): 1846-6346
Publication frequency: two issues per year (January 31st, July 31st).
Journal DOI: https://doi.org/10.15233/0352-3659
Abbreviated Title: GEOFIZIKA

Printed version dimension: 170 x 240 mm (active part: 125 x 180 mm)


APC (Artcle processing charge) information:

No page charges are levied on authors or their institutions except for colour pages in the print edition, i.e. figures which appear in black-and-white in the print edition will appear in colour in the online version free of charge, assuming colour originals are supplied. Colour pages are charged as follows: one page - EUR 150; two pages - EUR 120 per page; three pages - EUR 100 per page; four or more pages - EUR 80 per page.


Publication of the journal is supported by the Croatian Ministry of Science and Education.